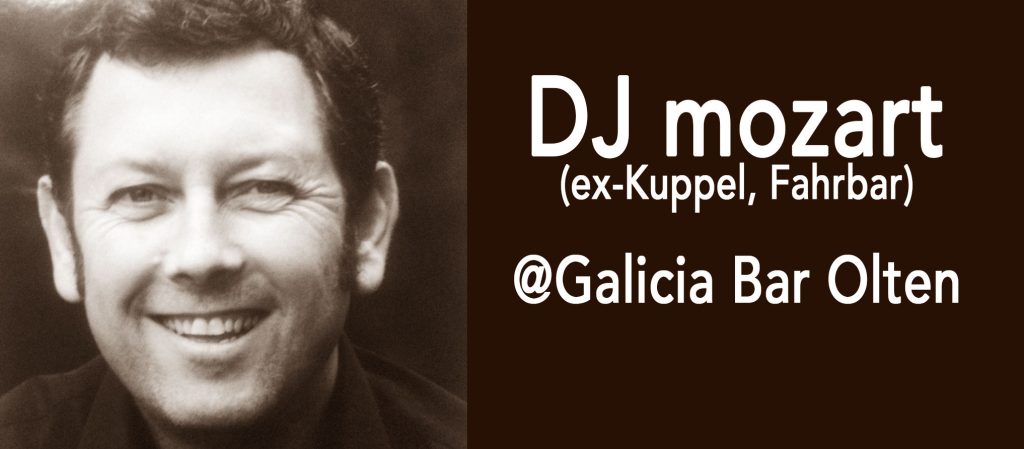 DJ mozart
Galicia Bar Olten
Fr. 10. Juli 2020, ab 22.00 h
Eintritt frei
Von cool- groovigem Soul/Funk and AccidJazz to 70s, 80s, 90s Rock/Pop/NDW and back to hot 50s/60s R'n'R/ Flower-Beat's and glitter 70s Discoclassics mit einem Spritzer Today.
---

labOhr #10
mit Yumi Ito Septett feat. Simon Spiess
Sonntag, 12. Juli 2020, 20.00 Uhr
Eintritt frei, Kollekte
Am 12. Juli 2020 pünktlich um 20 Uhr lädt Simon Spiess wieder zum Klangexperiment in die Galicia Bar Olten ein.
Diesmal mit dem Yumi Ito Septett feat. Simon Spiess:
Yumi Ito – Vocals, Piano; Sam Barnett – Altosaxophone ; Simon Spiess – Tenorsaxophone, Bassclarinet ; Jo Flüeler – Cello ; Ambrosius Huber – Cello ; Kuba Dworak – Doublebass; Iago Fernandez – Drums.